FilmsForArtists.com is a subsidiary of LightningBolt PIX, a Santa Monica based production company that has been making award-winning films of every description since the 1980s.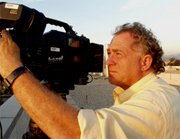 Michael W. Barnard is the chief filmmaker at LightningBolt PIX and has decades of experience making films at diverse locations around the world. Barnard has worked with a wide array of personalities including I.M. Pei, Dale Chihuly, Siegfried & Roy, Karen Black, William Shatner,  Ringo Starr, Dave Stewart, Sandra Bernhardt, etc. Barnard has a special affinity for artists since he is himself an active visual artist as well as a filmmaker. His filmmaking work has been enriched and expanded by his artistic sensibility. You can see more about Michael W. Barnard at www.michaelwbarnard.com.
WHY SHOULD I HAVE FILMSFORARTISTS.COM MAKE A PROMO FOR ME?
As we all know, the "linqua franca" of today AND tomorrow is the internet. Using sites like YouTube or Vimeo to host videos about your work is a very powerful and easy way to present your work to others. Making a short film is the best, most dimensional way to communicate your talent or product to others. Making a high-quality short film is even better!
We offer many decades of award-winning, high-level filmmaking experience that we are now offering to the public at a very reasonable cost.
We are frequently told by artist-clients that our films are unusually clear and beautiful. We take pride in using and improving our technical and artistic skills to help others succeed!
IS THIS SERVICE JUST FOR ARTISTS?
Not at all! We also do films about architects, authors, dancers, performance artists, musicians,  and anyone else that has a skill, product, or project they want to showcase to others..
HOW COMPLICATED IS THIS TO DO?
It's really very simple. Most of these promo films consist of three basic elements – a sit-down interview with the artist, an in-studio session of the artist at work (or performing). and the use of still (or moving) images of finished works supplied by the artist for integration into the final film.
HOW LONG DOES IT TAKE TO MAKE ONE OF THESE FILMS?
A complete 3-5 minute film can be done in as little as a week, though generally it takes a little longer due to the logistics of setting up the shoot day, collecting still images, editing, etc.
WHAT ARE THE STEPS IN MAKING THESE FILMS?
1- Prep/Scout
The first thing we do is confer to determine what your needs are.  We assess the kind of work, the physical situation where the work takes place, and determine a basic plan for shooting the film. At this stage, we also determine the basic schedule.
2- Shoot
For a basic promo film we  shoot the interview and the studio session on the same day. The interview can take up to 4 hours to set-up, shoot and tear-down. The studio shoot can be another 4 hours and is done documentary style  with a mixture of handheld and tripod-based cameras.
3- Post-Production.Editing
All the footage is transferred to our editing system and organized. At the same time, we transfer all the still images of the work into the editing system. The actual editing can take up 3 days to accomplish for a basic promo film. You will be presented with a fine-cut of the film for your approval. If necessary we will do revisions to incorporate any notes you might have. We want you to be happy with your finished film!
IN WHAT FORMAT DO YOU PRODUCE THE FILMS?
All our films our shot and edited in true, high quality 1080 x 1920 High Defintion. The films we turn out are all Broadcast Quality.  We were very early adopters of High Definition and really do understand how to make it look great. Once the film is complete, you will be given a 1080p Quicktime digital copy of the film, as well as two levels of H264 encoded versions (Large and Small file sizes) for use on YouTube, Vimeo, or other sites. You will also be given two copies of a standard DVD of the finished film.